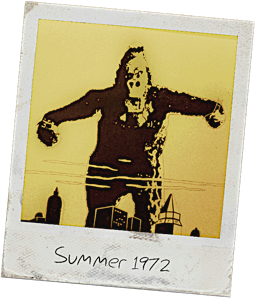 My mother taught me …

Never to run with scissors

Or to draw on walls

Well, I don't run with scissors!

-- But, I did have the urge to draw on walls -- 

I ignored the urge and held off until 7th grade, and then I did the unthinkable… I asked my Mom for permission to DRAW King Kong ON MY WALL, gulp!  Surprisingly, she didn't hesitate, she said "YES," and my long-running mural career was born.  She had no idea, in that moment, that not only did she give me permission to draw on my walls, but she'd also given me permission to be myself and do what I love!

Fast forward >> All kidding aside, a little humor, passion, and an artistic gift has suited us well.  I am an artist… it's in my blood and in my heart… I am grateful that my wife understands that, and has not only supported my passion for over 22 years now, but has joined me in creating the business we have today. 

We offer a unique blend of truly personalized design, 3D style painting, years of professional experience, and the ability to work in a variety of artistic styles (diverse looks… by just one artist) – all giving you the quality and convenience you desire.

Whether you're in a residence, small business, or large company, we'll transform your environment to bring energy and life that'll not only give you a great feeling, but will exceed all your expectations!  We work with small and large businesses alike, from blueprints and construction, to days before opening, we've done it all – and most importantly… on time!  Your project will be completed when scheduled (without any unforeseen building/construction delays).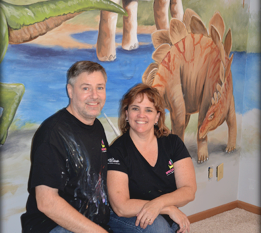 Give us a call

to start your transformation!

630.778.0929

Ken & Judy Markiewicz

Mural Specialists

Serving Chicagoland Area and Beyond

Oh, and as an additional BONUS… When you hire us, you'll be helping to support our Crayons Cares Project, "Painting Happiness."  This is not only a job, it's our opportunity to make people happy… and some people need it more than others… So with your help, the more we work, the more we can give back.

Make-A-Wish, Chicago Cares, and Special Spaces are the three main organizations we partner with on a regular basis.  Visit our "Giving Back" page for a full list of projects, and join us on Facebook, to see all the wonderful kids, families, and group projects we've completed over the last several years.  If you'd like to help even more, you can make a donation directly on our Painting Happiness project page here.

Thanks for your time and have a great day!!!